National Competitiveness Manufacturing USA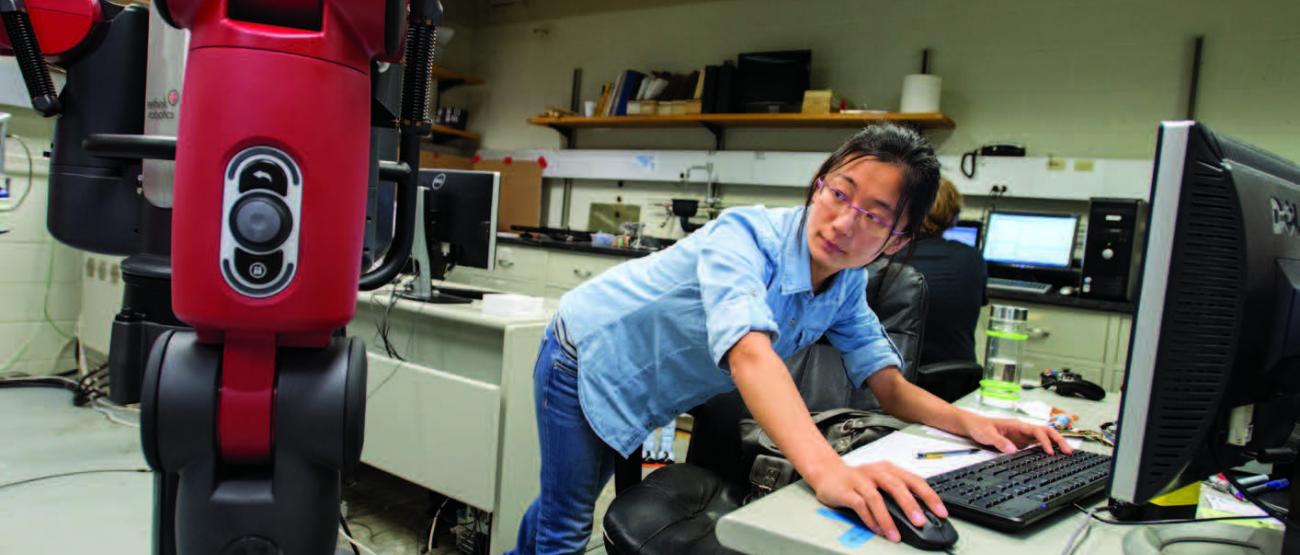 Manufacturing USA, formerly the National Network for Manufacturing Innovation (NNMI), is a network of U.S. research institutes focused on advancing American manufacturing through public-private partnerships between U.S. industry, universities, and federal government agencies.
Through Manufacturing USA, industry, academia, and government partners are leveraging existing resources, collaborating, and co-investing to nurture manufacturing innovation and accelerate commercialization.
Rensselaer has taken a lead role in three new Manufacturing USA Institutes announced by President Barack Obama focusing on smart manufacturing, biomanufacturing, and robotics.
The Smart Manufacturing Leadership Coalition will lead the new Clean Energy Smart Manufacturing Innovation Institute (CESMII), in partnership with the Department of Energy.
The coalition brings together a consortium of nearly 200 partners from across academia, industry, and nonprofits—to spur advances in smart sensors and digital process controls that can radically improve the efficiency of U.S. advanced manufacturing.
The institute will focus on innovations that can dramatically reduce energy  expenses in advanced manufacturing, making our manufacturing sector strong today and positioning the United States to lead the manufacturing of tomorrow, helping sustain the current resurgence of U.S. manufacturing.
CESMII will launch five regional manufacturing centers across the U.S., each focused on local technology transfer and workforce development. Rensselaer will lead the Northeast center for CESMII programs, involving regional partners from industry, academia, and government.
Overall, CESMII partners will bring more than $140 million in public-private investment from leading universities and manufacturers to develop smart technologies and systems for use in advanced manufacturing.
In biomanufacturing, Rensselaer will be a Tier 1 partner in the new $200 million public-private partnership to advance U.S. leadership in biopharmaceuticals. A $70 million award from the U.S. Commerce Department established the new National Institute for Innovation in Manufacturing Biopharmaceuticals (NIIMBL), complementing an initial private investment of at least $129 million from a consortium of more than 150 companies, educational institutions, nonprofits, and state governments.
NIIMBL, led by the University of Delaware, will advance U.S. leadership in the biopharmaceutical industry, foster economic development, improve medical treatments, and ensure a qualified biopharma workforce.
"This is a powerful new partnership that is uniquely positioned to have a profound impact on the state of the art in biomanufacturing of protein biologics, and cell and gene therapeutics," said Jonathan Dordick, vice president for research and the Howard P. Isermann Professor of Chemical and Biological Engineering. "Rensselaer has a long and distinguished history of import-ant contributions to the field of biomanufacturing, and as a key member of NIIMBL, we expect that Rensselaer researchers will play a significant role in many aspects of this institute."
Rensselaer also is a founding member of the Advanced Robotics Manufacturing (ARM) Innovation Institute. The Department of Defense (DoD) will provide $80 million in federal funding to launch the ARM Institute, led by Carnegie Mellon University, to stimulate robotics technology development in manufacturing environments. The investment will be matched by a $173 million contribution pledged by the more than 220 partners that make up the winning coalition.
According to the Department of Defense, robotics is increasingly necessary to achieve the level of precision required for defense and other industrial manufacturing needs.
Energy, Environment, and Smart Systems