Transforming Waste Into Sustainable Building Materials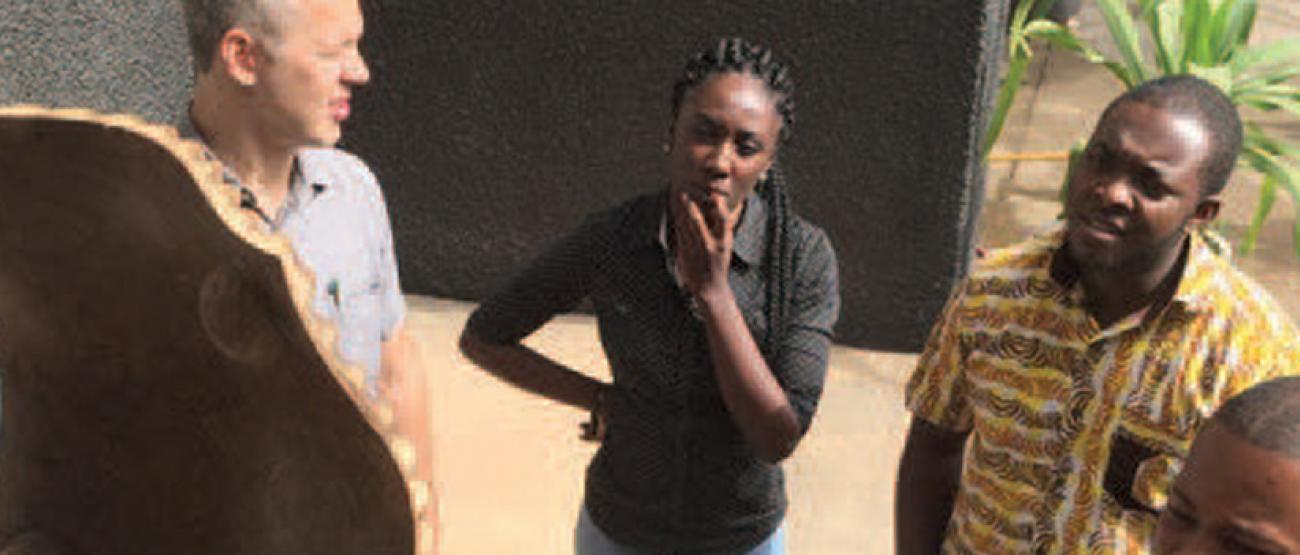 In Ghana, like many tropical countries around the world, people widely use and export coconuts for their fruit, milk, and cooking oil. The husks are thrown away by the millions, leaving to waste what might instead be transformed into a multifaceted building material.
Building panels made of upcycled coconut husks made a statement at the Chalewote Street Art Festival in Accra, Ghana, last summer. The festival is a  forum for showcasing experimental ideas in art and design.
"The coconut is not just any waste product; it has a lot of great properties," said Josh Draper, an architect and clinical professor at the Center for Architecture Science and Ecology (CASE), which hosts Rensselaer's graduate program in Built Ecologies. "The question is 'what if we could take it and make it into some-thing useful and something beautiful for our buildings?'"
For seven years, researchers at CASE in New York City and in the School of Architecture in Troy have been developing building products from coconuts and other agricultural waste as a sustainable, low-energy alternative to plywood and other materials made with synthetic adhesives. They are using  coconuts to create non-toxic wall modules  and an acoustical panel system that can help cool buildings passively.
Ghana is a target country because construction is booming, building  materials are largely imported, and coconuts are commonly used and their by-products are discarded.
The ropelike coir fiber extracted from a coconut husk is very strong. And the coir can be pressed with the coco-nut's pith, a dust in the husk that acts as a natural binder, to form a biocomposite that is as strong as plywood.
In addition, Draper says, the coir and pith are dessicants, which remove moisture and pollutants from the air. CASE researchers and other Rensselaer collaborators are developing an acoustical panel with these materials, which could save energy and money by reducing loads on air-conditioning.
Infrastructure Sustainability, Resilience